The Town & Country Garden Club History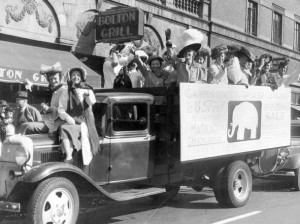 The Town and Country Garden Club of Cleveland became an active supporting organization of gardening in the Cleveland community in 1927 with 177 charter members. Town & Country's members, through membership in the club and other affiliations in the community, enthusiastically supported early efforts to organize The Cleveland Garden Center, which later became The Garden Center of Greater Cleveland and then eventually Cleveland Botanical Garden.
Town and Country was one of the original participants in the 1930 "French Street Fair," held with the purpose of raising funds for a permanent home for The Cleveland Garden Center. This three-day event was the predecessor of the renowned "White Elephant Sale of Cleveland" in which club members were regularly involved and whose annual proceeds benefited the garden center.
Over the years Town & Country Garden Club has supported numerous community beautification projects and has sponsored several scholarships for horticultural and environmentally based studies. During the war years the club participated in community Victory Garden efforts and sent seeds to England for the recovery of their home gardens. During the 1960's the club was again one of the active supporting organizations in the effort to raise building funds- this time for the present location of Cleveland Botanical Garden.
The Town and Country Garden Club of Cleveland has a tradition of donating books to Cleveland Botanical Garden's library in honor of the club's past presidents and in memory of its long-time members. Current community activities also include supporting and actively working on beautification at Hospice of the Western Reserve, supporting internships for the Cleveland Museum of Natural History, and continuing participation in the support of Cleveland Botanical Garden and The Holden Arboretum.